Recently, there have been a number of posts and blogs here at Help2Go related to
Flash cookies
(or
Local Shared Objects
as they are more accurately described) and how to remove them from your computer. This stems from some degree of paranoia which abounds on the internet related to personal security and the ability to track your internet habits - more often than not based on a lack of understanding of how Flash works, a hatred of anything Adobe (!) or for commercial reasons.
There are a number of dedicated browser plugins - mainly for
FireFox
, that delete Flash Cookies after each session, and cleaner software like
CCleaner
also has an option to remove them, but the simplest option is to stop them being placed on your system in the first place. This isn't a difficult thing to do and takes just a few minutes - and is provided by
Adobe
themselves.
First thing to do is visit the
Adobe
website...
Adobe - Flash Player : Settings Manager - Website Storage Settings panel
Once there you'll see a window labelled
Global Privacy Settings
panel with tabs along the top edge. That isn't simply a static image, it's the actual settings window for your computer, so may take a few seconds to load.
Just copy each of the settings shown below to obtain the maximum security level, minimum intrusion and have
no cookies
placed on your computer.
In the following window, you can choose to be informed of
Flash Player
updates if you wish. If not, leave the option unchecked...
The next window relates to licenses that may be required to play commercial movie files using the .flv format that you may have downloaded. Choosing
Reset License Files
will delete them which will mean you'll need to re-acquire them from the publisher. If you have none, leave as is and move to the next tab.
In the last window, place a check mark against
Disable P2P uplink for all
, then clear any entries that may be listed...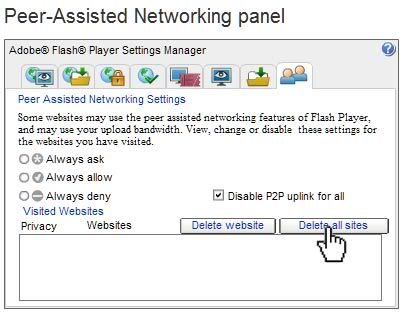 Once completed, you can simply close the browser window. The settings will be automatically stored on your computer in a file called
settings.sol
which is checked by your browser each time you open any Flash content to check your preferences. If you, or a cleaner program, deletes the file (which is unlikely), it'll be recreated automatically with
Adobe
default settings, which will mean you'll have to repeat the above processes.
Any plugins you may have - particularly
Better Privacy, FlashBlock and Objection
can be uninstalled once the above has been completed. They only slow down your browser performance anyway.
Hopefully, that's removed some of the mystery (and fear) regarding Flash cookies.