| | |
| --- | --- |
| LogMeIn Ignition for iPhone Review | |
by Oscar Sodani
December 16, 2008

Oscar Sodani is a founder of Help2Go and owner of Help2Go Networks, an IT consulting firm in the Washington D.C. area. Oscar holds the CISSP certification as well as industry certifications from Microsoft, Cisco and Novell.

Today, LogMeIn released a client for the iPhone, called Ignition. At $30, it is certainly one of the more expensive iPhone application in the iTunes Store. But is it worth the money? Being an avid LogMeIn.com user, I took the plunge. And was impressed. And disappointed.






Testing LogMeIn Ignition for the iPhone on a Wifi Connection

When the LogMeIn Ignition app starts up on your iPhone, you are asked to login with your LogMeIn username/password. That was pretty straightforward and you can choose to save your login credentials.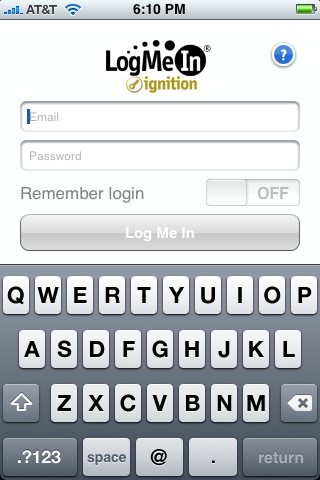 You are then quickly presented with a list of your connected computers. I daresay that the login is as fast as the website (which can sometimes lag). Choose the machine to connect to, and you will be asked for that machine's credentials. Again, you can choose the option to save your credentials (though I strongly advise against this).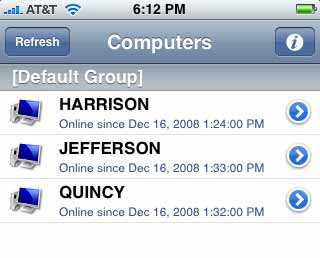 I was able to connect to a Windows PC running at a screen resolution of 1024x768 with no problem. The speed over Wifi was excellent and entirely usable, and the interface is well-done.
By default, the entire screen moves around as you move your finger across the iPhone, while the mouse pointer stays stationary in the center of the screen. While this may take a bit of getting used to for some, I found it very intuitive. Best of all, you can easily change the settings so that the screen is stationary while the mouse pointer moves around.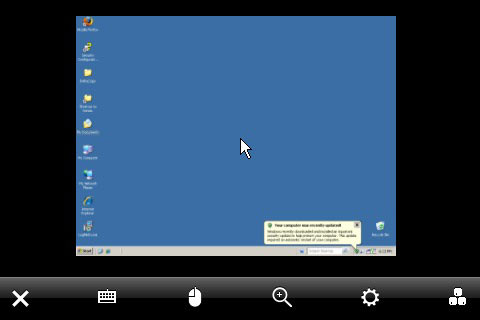 The usual pinching technique will shrink and expand the screen, taping is a single-click, double-tapping is a double-click, and two-finger tapping is a right-click. It all works perfectly, and there are icons at the bottom for a virtual keyboard and special keypresses (such as Ctrl-Alt-Del).
I received a phone call while using the app. After completing the call, it returned to Ignition, but it had logged me out of not only the computer, but of LogMeIn as well, so I had to start all over.
The entire experience with the PC was successful. Next, I tried connecting to a MacBook Pro.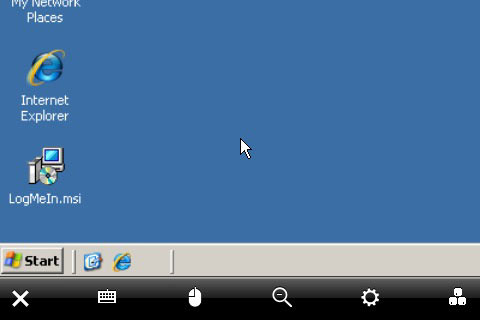 Then the crash...

I tried to connect to my MacBook Pro, running at a resolution of 1680x1050. After connecting, it started to draw the screen, but then the app came up with a pop-up box saying that there was not enough memory and I should decrease the resolution of the client computer. And promptly crashed.
I tried it a few more times, making sure that it wasn't a fluke. The PC worked fine, the Mac did not. The resolution was simply more than it could handle.
It seems to be that this is a bug that should have been caught during testing, well before the app was released to the iTunes Store, and before they decided to charge $30. I will remain optimistic that there will be a fix soon, but this app is NOT worth $30 in my opinion until they release an update.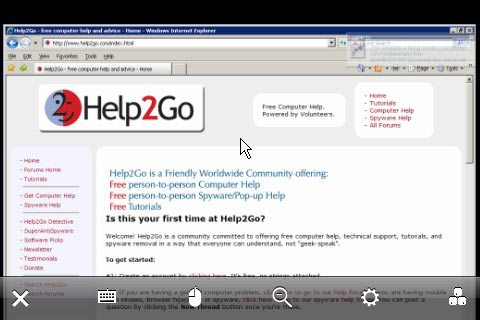 ---
Have a question? Need help? Get free, friendly person-to-person help with your computer questions or spyware questions in our help forums!