| | |
| --- | --- |
| HijackThis Tutorial - | |
by Oscar Sodani
May 5, 2009

Oscar Sodani is a founder of Help2Go and owner of Help2Go Networks, an IT consulting firm in the Washington D.C. area. Oscar holds the CISSP certification as well as industry certifications from Microsoft, Cisco and Novell.
HijackThis is a powerful tool that can help you figure out what is running on your computer. Many computer help forums such as ours use the output of HijackThis (called a HijackThis log) to help us understand what may be causing your PC to misbehave. Here's how to create a HijackThis log.
If you have a fast Internet connection, check out the video version of this tutorial here.
Note: HijackThis is a powerful tool that can severely change the software running on your PC. You should only run HijackThis if you have followed the directions in our Get Rid of Spyware Guide, or if instructed to do so by an expert in our Spyware Help Forum.
Download and Install HijackThis

First, you will need to download the HijackThis program.
This is a setup program that will automatically install the HijackThis program on your hard drive. Double-click the file you downloaded, and accept all of the default options.
Create a HijackThis log file

After you have installed the program, click on Start -> Programs -> HijackThis -> HijackThis. The utility will start and you will see the following screen: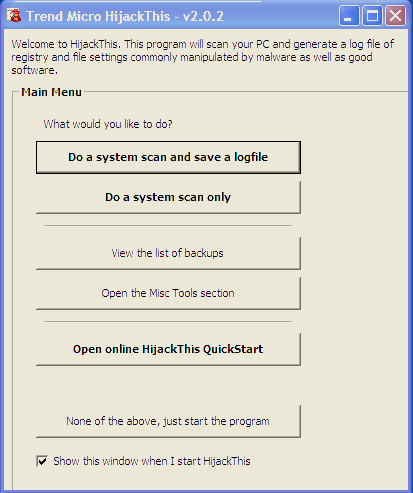 Now click on the button marked: Do a system scan and save a log file
This will scan your computer for ALL the programs currently running on it, as well as those set to run on startup. Be patient - this may take a minute or so. Once it is done, Notepad will open with a log file: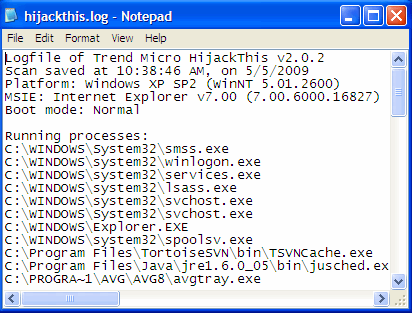 If you would like one of our experts to look over your log file and give you advice, you must have cleaned your computer with an anti-virus and anti-malware before an expert can help you - click here for instuctions on how to do that. If you are ready to post your HijackThis log file, perform the following steps.
Click on the Edit menu and choose Select All to highlight all of the text.
Then click on the Edit menu and choose Copy to copy the log to your computer's clipboard.
Next, go back to the Spyware Help Forum. If you already have posted a question, go back to that question and click the Post Reply button. If you have not already posted a question, click the New Topic button.
Then paste (click on the Edit menu -> Paste) your log into the text area.
Once you have posted your log into the forums, go ahead and close HijackThis.
Fix Entries with HijackThis
At some point, an expert may reply to your question and tell you to mark certain entries in HijackThis. Start HijackThis again (click on Start -> Programs -> HijackThis -> HijackThis) and click on the button marked Do a System Scan Only. You will see a window like the one below.
Check ONLY the boxes next to the entries that the expert told you to remove. Then click the Fix Checked button at the bottom left.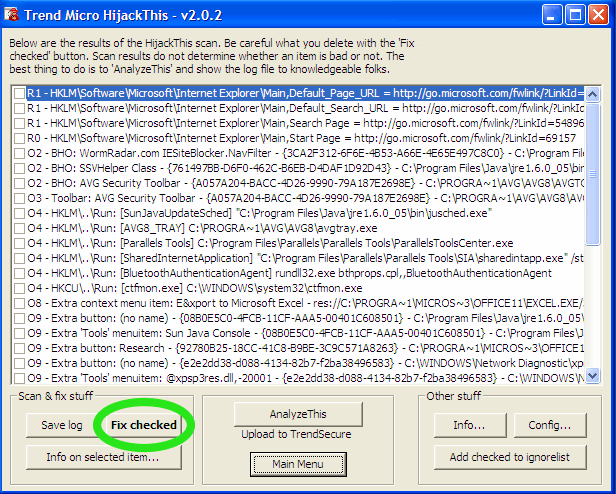 Then follow any other instructions the expert may have given you and reboot your computer.
After you reboot your computer, you may submit another HijackThis log for analysis. Simply go through the instructions above for creating a HijackThis log file.
---
Have a question? Need help? Get free, friendly person-to-person help with your computer questions or spyware questions in our help forums!